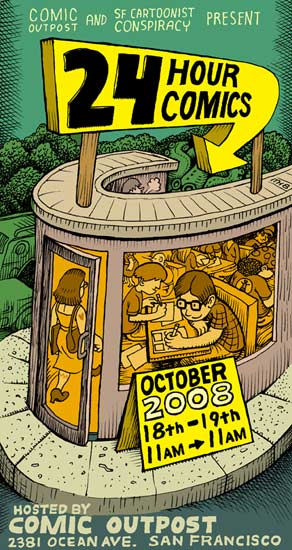 If you are into comics, love to draw, check out the comic book jam group meeting at the Church Street Cafe between Market and 15th street. The group meets on the 2nd and the last Thursday of the month from 6 to 10pm, and they d r a w.
You don't have to be a pro to participate, but seriously, those people mean business:) A friend took me there last month for the first time, and they were doing some impressive collaborate projects. Don't be intimidated by their fancy works, they love the idea of having different styles of drawing in one project. Normally an artist starts a theme, and the project is passed around. The story is quite unpredictable until the last artist finishes the last panel. I didn't get to participate when I was there because my friend spilled coffee on his Tshirt, and I end up drawing on people's Tshirt the whole night :)
They also have this 24 hour comic jam event. Gosh, you must be a comic nut to do this. After paying $5 to secure your seat at the comic outpost on 2381 Ocean Ave. San Francisco, you will have the chance to draw continuously for 24 hours with people just like you. Oct. 18th 11am - Oct. 19th, 11am.
Check out their website: www.cartoonistconspiracy.com about this SF event