okay we have already had a few film festivals in town. But the Chinese Independent film screening at the Chinese Cultural Center starting this Sunday would be a treat to those who are interested in modern Chinese society. The subjects of the film range from gay bar, transvestite male actor, street artist from rural China, Chinese marriage crises, to disappearing old neighborhoods in Shanghai. It is a blessing that we have those valuable documentary films here all at once, as I assume many of those won't be shown in China, if any. I will watch two films shown at 1pm, on June 3rd, this Sunday. They are "Nostalgia" and "Guarding Shangarila".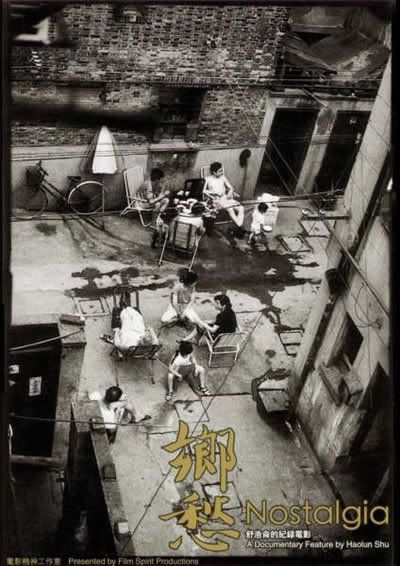 "Nostalgia" is a film about the oldest neighborhood in downtown Shanghai that will soon be demolished in order to make room for skyscrapers. During the college years in Shanghai, I had many friends that grew up in those crowded, yet cozy "li-nongs". Despite of limited privacy and space, it isn't uncommon to have generations of Shanghainese packed in a small room. The thing I remembered the most is that my friend asked me not to turn on the wrong faucet in the communal kitchen when I wash my hands as her neighbor would be very unhappy. Looking at complicated pipelines and different faucets marked by different color tapes, I could not imagine how these households lived in peace for years.
There's certain charm in those old buildings though. That's why when one of these neighborhoods turned into a modern bar district, "Xin Tian di" , it became super popular. Earlier this year when I went back to Shanghai first time in 9 years, my college friend took me there and pointed at that most expensive and popular bar in Shanghai, and said: "See that window upstairs?" I noticed a charming window with some mysterious yellow light in it, and wondered if my dress is pretty enough to enter an expensive place like this. "That use to be my bedroom!" my friend shrugged his shoulder and said, "I grew up there till I was 16. Mom lost the battle, and our family had to eastern Shanghai." I looked at the half block long line at the bar entrance waiting for taxi, most of them foreigners, and wondered if they would ever know the lives and stories of those locals who lived there merely a few years ago. (Well, you would know at least some part of it if you go watch this film! :)
For NPR review of this film, click here. For all other film schedules, click here. $3 for ccc members and $6 for general public. See you there!